| | |
| --- | --- |
| | If you'd like to traveling by train you should order and buy railway tickets. In this section we try to explain all abbreviations that located on the Russian railway ticket. |
Each Russian railway ticket is a special watermark paper size of letter format (19,5 cm. width and 8,5 cm. height). On the top of ticket located additional railway logo hologram (circle with logo). Special ticket numeration located on the top (right corner).
For the purpose of explanation we insert color lines corresponded to each abbreviation position.
Dark blue line - on the first row you can find following information: Train number (073) - Departure date (24.07) - Departure time (15.23) - Car number (005) - Car type (Ï) - Ticket price calculation - Number of peoples (01) - Additional information about privileges

Red line - second row: Information about passenger route: Departure station title - Arrival station title (dep. station code - arr. station code)

Orange line - third row: Seat number


Green line:Information about you passport number, surname, name, father name (first letter only)

Aqua line: Ticket price calculation with information about insurance fee (in RUR)

Blue line: Arrival date and time information (according to Moscow time)
Here it is original Russian railway ticket: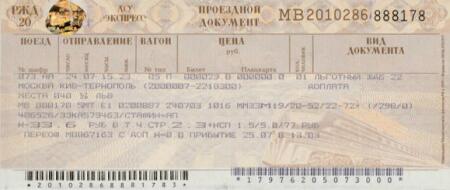 Whichever class of travel you choose, each coach is looked after by a pair of attendants called a 'provodnik' (male) or 'provodnitsa' (female). The provodnik will check your ticket at the door when you board. Shortly after departure, the provodnik will come round to take your ticket. You'll be able to get you ticket back about 30 minutes before train arrive to you station.